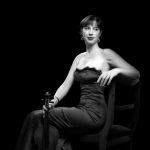 The Australian Violinist Madeleine Easton was born in Sydney and studied at the Sydney Conservatorium of Music where she graduated with first class honours. She was awarded scholarships and was successful in competitions winning the Sydney Conservatorium Concerto Prize, and was a finalist in both the 1999 Richard Goldner Concerto Competition and the 1998 Gisbourne International Music Competition in New Zealand. In 2000 she was a recipient of a full scholarship to attend the prestigious Meadowmount Summer School in New York State, and a year later won a place to study at postgraduate level at the Royal College of Music with Dr Felix Andrievsky where she graduated with distinction winning the Royal College of Music String Prize.
Madeleine is in great demand both on modern & period violins, particularly as soloist & chamber musician. She has been a member and a guest principal with many of the major symphony and chamber orchestras in Australia. In London she regularly leads the London Musical Arts Ensemble, Orchestra Nova, the Southern Sinfonia, the Musicians of the Globe, The Independent Opera Company, the New London Consort and London Orchestra da Camera. In July 2006, she was appointed concertmaster of the Hanover Band, one of the most prestigious period instrument orchestras in England. She also plays with the Orchestra of the Age of Enlightenment, the Gabrieli Consort, the Academy of Ancient Music, Orchestra Revolutionaire et Romantique, the City of London Sinfonia and the London Philharmonic Orchestra.
As a soloist, Madeleine has performed with many symphony orchestras in Australia and the UK, including the Australian Brandenburg Orchestra, the New Queens Hall Orchestra, and the London Orchestra da Camera. Her repertoire extends from performing Bach Violin Concertos, to performing Brahms, Tchaikovsky and beyond.
Also an accomplished chamber musician, she makes regular appearances with noted young performers in the UK – most recently with rising star cellist Jamie Walton and plays a key part in Jamie's new North Yorkshire Moors Chamber Music Festival. Madeleine performs as a duo with Daniel Grimwood who is a leading young English concert pianist. She is also a member of an all Australian wind and strings quartet, 'Island', who have just recorded the Antoine Reicha Bassoon Quintets in the Barossa Valley, Australia.
Last year, Madeleine made the premiere recording of the complete Khandoshkin solo sonatas with SFZ Records and will be recording the complete Khandoshkin duos early next year. Other recording projects include the complete works for Violin and Piano by Schubert and a disc of early 19th.c violin concertos with the Hanover Band. In November 2006 she led performances of Handel's opera Orlando at Sadlers Wells theatre. Recent performances include a concert performance of 'Orlando' and an appearance with Ensemble F2 at London's Wigmore Hall, and during summer 2008 she was soloist and director of a new Paganini festival in the UK. She was guest Concertmaster for the Orquesta Nacional de Madrid in October 2008 for their production of Handel's 'Il Trionfo del Tempo e del Disinganno' directed by Paul McCreesh, and was guest Concertmaster for La Grand Chapelle's production of early 19th.c Spanish Opera in December 2008.
Madeleine is now directing the Royal Academy of Music's Baroque Orchestra in their February orchestral project with Trevor Pinnock, and the Bach Cantata Series throughout 2009 and 2010, as well as directing the Royal Academy's String Orchestra in period performance techniques on modern instruments. She has also directed the Royal Northern College of Music Chamber Orchestra teaching period technique on modern instruments. Recently she was invited to guest lead the Australian Brandenburg Orchestra in their July concert series in Sydney and has been invited to lead their October concert series in 2010. She will also perform a solo recital in Sydney with the well known Australian Pianist Simon Tedeschi in March this year.